Our FAQ
2013/08/03
Mostra Convegno Expocomfort 2014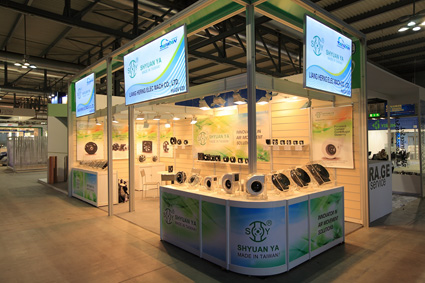 Mostra Convegno Expocomfort (MCE) is held on March 18th to 21th, 2014 at Fiera Milano Exhibition Centre, Italy.
MCE is one of leading HVACR exhibition in Europe. MCE offers a complete showcase of the most advanced technologies in Heating, Cooling, Water, Energy field. Especially, emphasize on comfort, efficiency and energy saving. This exhibition has offer a marketplace where international suppliers and buyers come together to do business, exchange information and learn about the trends of future.
SHYUANYA's booth is located at Hall 24, StandsA07-11. The highlight of our booth is not only displaying the newest marketing literatures and catalogs, but also showing our latest products including Axial Fans, Centrifugal Fans, and Centrifugal Blower during this trade fair. Don't miss this opportunity to test our fans on site and discuss more detail with our sales team.
Event Name:
Mostra Convegno Expocomfort (MCE),
Event Show Dates: March 18th to 21th, 2014
Venue : Fiera Milano Exhibition Centre
Stand: Hall 24, Stands
A07-11
.
Website:
http://www.mcexpocomfort.it/