AD40-10T / 40x10mm
Air Flow

5.8 ~ 8.1 CFM

Housing

Thermoplastic PBT, UL94V-0

Impeller

Thermoplastic PBT, UL94V-0

Bearing

Ball or Sleeve

Termination

Lead Wire UL 2468 AWG#26

Red Wire: Positive Voltage (V+)

Black Wire: Negative Voltage (V-)

Yellow Wire: Function

Temperature

-10℃ to +70℃ for Sleeve Type

-20℃ to +80℃ for Ball Type

Weight

13.7g

Function

Function type is optional

P: Lock Protection

A: Rotation Detector

I: Frequency Generator
Item CodeAD05V40-10T-FPH-B7-N1
Rated
Voltage
Frequency
(Hz)
Rated
Current(A)
Input
Power(W)
Speed
(RPM)
Air Flow
(CFM)
Air Flow
(m3/min)
Static Pressure
(inch-H2O)
Noise
dB(A)
Capacitor
(uF)
5V
NONE
0.18
0.9
7000
6.3
0.18
0.175
31
NONE
Item CodeAD05V40-10R-FPH-B7-N2
Rated
Voltage
Frequency
(Hz)
Rated
Current(A)
Input
Power(W)
Speed
(RPM)
Air Flow
(CFM)
Air Flow
(m3/min)
Static Pressure
(inch-H2O)
Noise
dB(A)
Capacitor
(uF)
5V
NONE
0.14
0.7
6000
5.4
0.15
0.125
26
NONE
Item CodeAD12V40-10T-FPH-B7-N1
Rated
Voltage
Frequency
(Hz)
Rated
Current(A)
Input
Power(W)
Speed
(RPM)
Air Flow
(CFM)
Air Flow
(m3/min)
Static Pressure
(inch-H2O)
Noise
dB(A)
Capacitor
(uF)
12V
NONE
0.10
1.2
7000
6.3
0.18
0.175
31
NONE
Item CodeAD12V40-10T-FPH-B7-N2
Rated
Voltage
Frequency
(Hz)
Rated
Current(A)
Input
Power(W)
Speed
(RPM)
Air Flow
(CFM)
Air Flow
(m3/min)
Static Pressure
(inch-H2O)
Noise
dB(A)
Capacitor
(uF)
12V
NONE
0.09
1.1
6000
5.4
0.15
0.125
26
NONE
Item CodeAD24V40-10T-FPH-B7-N1
Rated
Voltage
Frequency
(Hz)
Rated
Current(A)
Input
Power(W)
Speed
(RPM)
Air Flow
(CFM)
Air Flow
(m3/min)
Static Pressure
(inch-H2O)
Noise
dB(A)
Capacitor
(uF)
24V
NONE
0.06
1.4
7000
6.3
0.18
0.175
31
NONE
Outline Drawing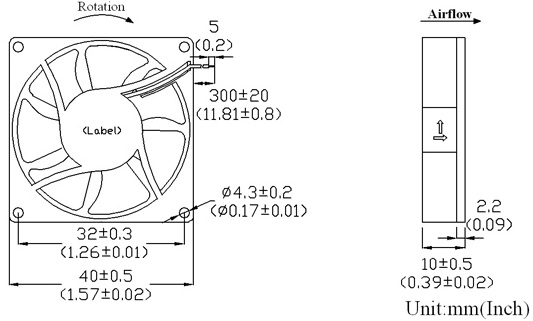 Charateristic Curve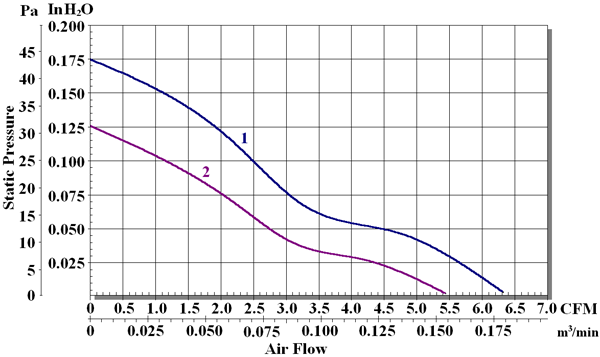 Company Overview
SHYUAN YA Group was founded in 1982 with more than 30 years experience in fan industry.
Our professional teams in molding and R&D departments are able to provide technical suggestions and customized services to our customers.
Based on commitment of strict quality control,up to 85% of fan components including fan motors are made in our factories which locates in Taiwan.
Inspection Equipments
In the end of production line, 100% products inspections are conducted to ensure that high standard and reliable products are delivered to our customers.
Our Semi-Anechoic Room is one of the biggest size in the fan industry. Background down to 10.0 dBA.
The air flow chamber is used for Measure air flow for any kind of fan.Measurement range up to 1,300 CFM.
Production Equipments
SHYUAN YA Group has invested over two million US dollars on upgrading precision equipments&facilities and expending production lines to max. 16 lines.
Our production lines include plastic injection, motor winding, and die casting processing lines.
Max 16 Assembling lines are able to provide short lead time for every purchase order. Mass Production normally takes about 4~6 weeks.
Certifications
CE Certification
ISO Certification
UL Certification
CCC Certification
ShyuanYa have met the worldwide standards and have qualified by ISO 9001:2008 and CQC quality system.
All our products are approved by UL (E184769)/ CUL/ CE , as well as in compliance with RoHS requirement.
Packing & Delivery
Trade Shows
Related Products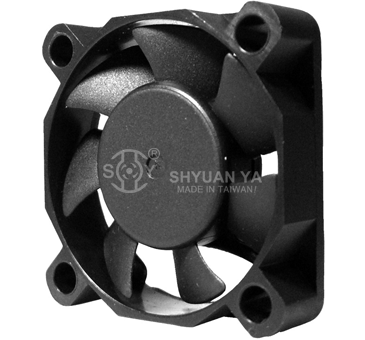 SHYUAN YA is expert in producing this range of DC Axial Ventilator 40x10mm. Our DC Axial Ventilator 40x10mm is made by high quality of raw materials, and are incorporated with latest technology. Besides, DC Axial Ventilator 40x10mm are available in many different sizes. DC Axial Ventilator 40x10mm is your best choice.
top
×
Welcome to Liang Herng Elec Mach Co.,Ltd.